324 - Bryan J. Hodges
Hairdresser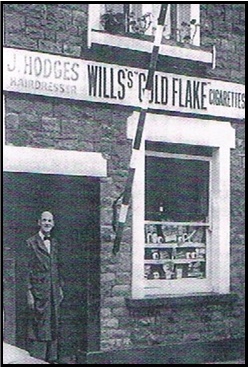 This Victorian shop situated next to the café on the corner of Beaconsfield Road was a well-known landmark; it was a family run barbers for more than 100 years.
David Stephenson writes, "Bryan's father James established the business in 1910. As a boy Bryan worked in the shop sweeping the floor and sometimes preparing customers for the traditional shave. He then moved up to become lather boy and doing bits of haircutting mainly in the evenings and Saturdays. Bryan took over the shop in 1953; at that time it was 6d for a haircut and 3d for a shave. Occasionally some of his regular customers could not get to the shop so he went to their homes on a Sunday to cut their hair.
When long hair became fashionable the business nearly folded. During that period men and boys would go into the shop for a haircut once a year 'for a quarter of an inch off the ends'. Others went to the unisex hairdressers who were more used to cutting longer hair.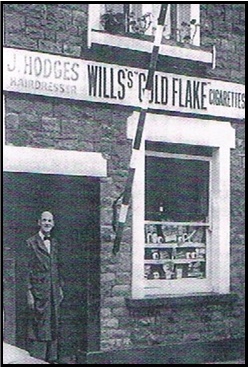 James Hodges (note: the Wills advert)
Bryan was a walking encyclopaedia of local history and gossip. His knowledge was unsurpassed and he features in many programmes and publications. Bryan passed away in 2006; the shop remained empty for a while before it was converted into flats."


Bryan Hodges. Traditional barber and Gentleman.
<-- Previous Page
Next Page -->