The Clark's Pie Shop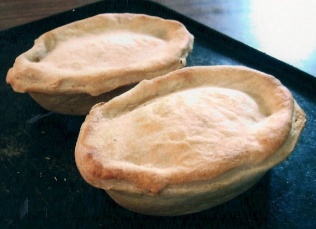 The popular Clark's Pie shop has traded at 114b Church Road since 1972, the unique Clark's Pie recipe proving a winner for many local people. Although the exterior has received new signage over the years, it is one of those shops which seems to remain the same 'year after year'. In a Church Road that is always changing, the Clark's pie shop represents consistency and continuity.
Clark's started when Mary Clark began making pies in Cardiff before the First World War. Members of Mary's family opened shops in Bristol during the 1930s, with outlets in Bedminster and Church Road. The Church Road shop was originally at No.263, next door to Lennards shoe shop and just along from Roseberry Park.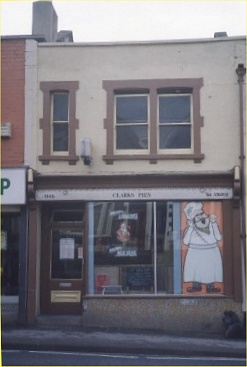 Bryan Weeks recalls this earlier Clark's Pie Shop: "It was to the left of Saunders & Weeks. I and my friends from St George Grammar School passed this shop on the way home during the dinner break. We were often unable to resist the temptation of calling into the shop and buying a pie or a pasty which we then ate on the rest of the way home where our mothers were busily preparing a mid-day meal for us. Unfortunately by the time we reached home our appetites were somewhat blunted!"
The present Clark's pie shop, between Milton Park and Weight Road, has a link to the Clark's pie shop that was in Clarence Road, Newtown. This was a very popular shop with Newtown people until the redevelopment of the area for the Lawrence Hill Roundabout. All the shops on Clarence Road were acquired for demolition and the Clark's Pie shop moved to Redfield.
The Clark's pie shop in the 1990s.
<-- Previous Page
Next Page -->