The St. George Fountain
THE FOUNTAIN is at the fork of Clouds Hill Road to Kingswood (A420) and Summerhill Road to Hanham (A431) and marks the ancient entrance to the old Royal Forest of Kingswood. It is said it was once the site of Don John's Cross.
Church Road has always been a major route through Bristol and in the days when the horse was the main form of transport, fountains and horse troughs were essential along such a busy road.
William Butler presented the St. George Fountain to the Parish in 1890 to mark his achievement of holding the post of Chairman of the Local Government Board for fourteen years.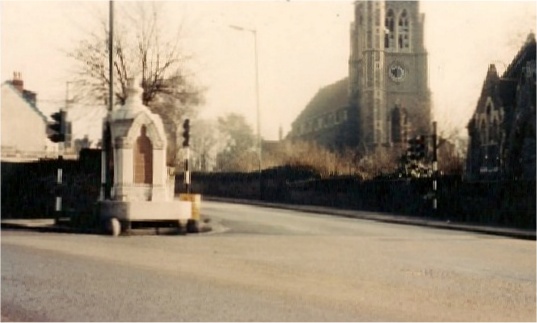 The Fountain and St. George parish church in 1974.
William Butler was born in Leicestershire in 1843. He worked for the Bristol and Exeter Railway under Brunel, before coming to Bristol in 1843 to manage the Crews Hole tar distilling works. Butler acquired the ownership of the works in 1863. His community activities were wide and influential. He was the prime mover of the St. George Local Board.
He was the Chairman of the Highways Board, a magistrate and the first Chairman of the Bristol Tramways and Carriage Company. Butler was closely connected with the Methodist Church and was a Trustee of Bethesda, Redfield. He retired in 1889 from active management of the tar works. He died eleven years later and was buried at Avonview on a site overlooking Crews Hole.
The fountain had fallen into disrepair and in 2011 it was given a new lease of life. The resident-led Church Road Action Group managed to get the Grade II-listed landmark restored.
The aim of the group is to try to improve the street to encourage people to use the local shops. Richard Curtis, Chairman of the Church Road Action Group, said: "We felt as a group that one of the things we could do was to get the water fountain restored thanks to the efforts of local residents, making a statement that people in St George do care about the community. We approached the St George Neighbourhood Partnership which agreed to make a £2,500 grant available for the work."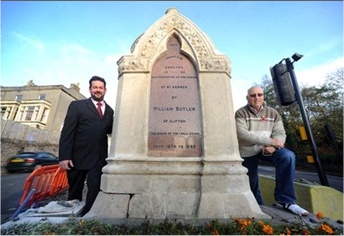 <! border="1"> A local firm, Summers Memorial Masons which is based in Church Road, was awarded the contract to carry out the restoration. They cleaned the stonework and replaced broken stones, which had fallen away from the landmark. They also cleaned the granite inlays and repainted the lettering on the plaque. Tim Boodrie, a manager at the firm, said: "It looked very tired and weathered due to the high volume of traffic which passes here every day. It was an unusual job for us but one that we have been very pleased to do."
Tim Boodrie of Summers Memorials and Richard Curtis, Chairman
of the Church Road Action Group at the St. George Fountain.

The wording on the fountain reads:
THIS
FOUNTAIN
ERECTED 1890
WAS PRESENTED TO THE PARISH
OF ST GEORGE
BY
WILLIAM BUTLER
OF CLIFTON
CHAIRMAN OF THE LOCAL BOARD
FROM 1874 - 1889