347 - Gays / Co-Op / Snowys
This was a distinctive stone structure with outbuildings and was used by the Bristol Co-operative Society for many years.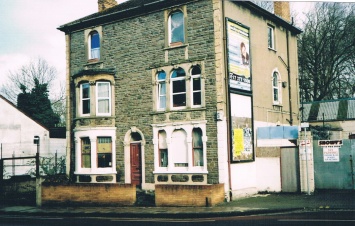 David Stephenson: "This was known as Heath House, a large building with stables attached. It was the residence of Frederick Gay who was a well known and successful horse dealer around about the 1890s. He died in 1933, a very wealthy man. Many local horse dealers were joined by dealers from all over the country and from around the world to attend his funeral in Avonview. The Co-op then used this site as a monumental works and stables. They were still there in the 1970s. The last company was Snowys, who specialised in car repairs and respraying."
In 2010 planning permission was given to demolish the former Heath House and construct a new building containing apartments plus ground floor retail space. Work started on the site at the end of 2011. On 16th October 2013, the Co-operative food store opened in part of the new development known as Hawthorn House. So after an interval of over 25 years a Co-op supermarket returned to Church Road.
<-- Previous Page
Next Page -->