221 - Bollom Ltd.
Dyers & Cleaners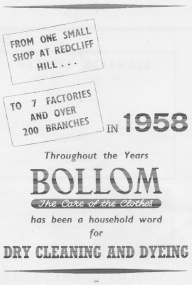 In 1968 Bollom dry cleaners and dyers, moved into Pearks old shop (No.221), opposite Bethesda. Previously they traded from two locations at either end of Church Road. One shop was at 37 Church Road, near the junction with Russell Town Avenue. From the 1930s until the late '60s Bollom also traded at 294 Church Road, which was opposite the Park Cinema.
David Stephenson: "The business had started in 1924 with one small shop at Redcliffe Hill which traded under the name of Numade, the Valet Service. This was quickly followed by the shop near Hamiltons at 37 Church Road.
Ivor Bollom and his brother-in-law Harold Gear started the business. Harold died young but Bolloms continued to grow, with Ivor and his two brothers Fred and Sam running the business. By 1958 they had over 200 branches. Bollom successfully traded at 221 Church Road for over 30 years later amalgamating into the Johnson Group."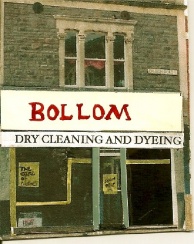 In the 1990s the Church Road shop became a Bollom and Klick Photopoint outlet (film developing and printing). So besides the Bollom dry cleaning you could take your films to be developed these being pre digital camera days!
The Church Road Bollom-Klick closed down around the year 2000 and the premises was converted into the Redfield St. Peter's Hospice Charity Shop. One of almost 50 shops in and around Bristol, the shops specialise in good quality fashion at bargain prices and raise money towards patient care at Bristol's only adult hospice.
<-- Previous Page
Next Page -->